Gucci is pleased to introduce its new Hollywood Forever eyewear collection and campaign, featuring a selection of glamourous crystal-studded sunglasses. To design this edition of glimmering styles, Gucci's Creative Director Alessandro Michele took inspiration from the mesmerising, eclectic spirit of the Hollywood stars of yesteryear, who shined both on and off screen. First launched in 2017, the Hollywood Forever eyewear concept is reinvigorated for 2021 to bring a touch of fabulous vintage glamour to a thoroughly contemporary selection of sunglasses. Mixing retro allure and modern refinement, these frames tell the story of the fun that can be had through acting your own part.
The imagery for the campaign sees our 'actors' in colourful tiled bathrooms taking extravagant bubble baths, wearing their Gucci sunglasses. Shot by cult artist, photographer and director Harmony Korine, the mood of the stills and video is playful and fun, the luxurious bubbles and bright tiled walls framing these glamourous and lively vignettes. Perfectly representing Gucci's vision of creativity and self-expression, the campaign images encourage an attitude of proud freedom: the focus is on personality and character, as is also suggested by the design of the sunglasses.
With the set stripped of all extraneous props, the shapes and decoration of the new collection take centre stage, displaying Gucci's inventive approach to eyewear design that plays with bold contours and exaggerated volumes in metal and acetate. The cat-eye silhouette is reimagined with sharp corners and spoked edges. A vivid shade of pink enhances a hyper-feminine frame with heart-shaped lenses. The classic round design is revisited with an oversize front, while rectangular frames have an eccentric construction with varying thickness.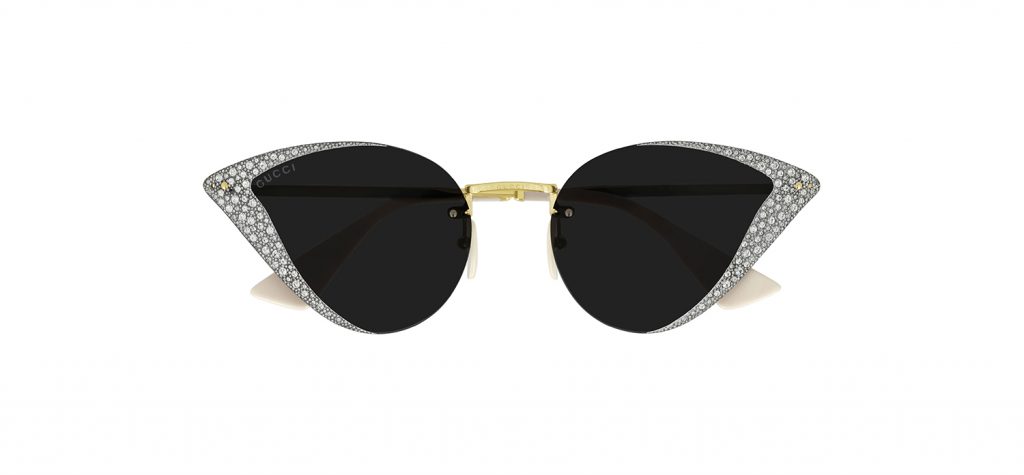 Every style is enriched with glittering crystals that are meticulously applied by hand to capture and reflect Hollywood's dazzling appeal; in the metal frames, the Gucci script and tiny hearts are engraved on the bridge, further enhancing the design. The gold interlocking G emblem adds further sophistication to what is a bold and lavish aesthetic.
The Hollywood Forever eyewear collection is currently available on Gucci.com and will be distributed in selected Gucci stores, department stores and independent opticians by the end of May. Availability may vary by region.