MOSCOT, a brand that has been passed down through five generations, embodys the cohesive force of a family and the tradition of eyewear craftsmanship. As a witness to 108 years of history, its cultural value is also immeasurable. To uphold the brand's "yesterday" and "today," and pave the way for "tomorrow," there must be immense pressure, as acknowledged candidly by Zack Moscot, the fifth-generation owner of MOSCOT. Despite the weight of their responsibility, the love the Moscot family has for the brand far exceeds their sense of duty. This is why their "upholding of the family business" has been so successful, allowing the brand to stand tall for over a century. From its beginnings in the Lower East Side of New York City, MOSCOT has expanded to all corners of the world, and the iconic bright yellow color remains unforgettable.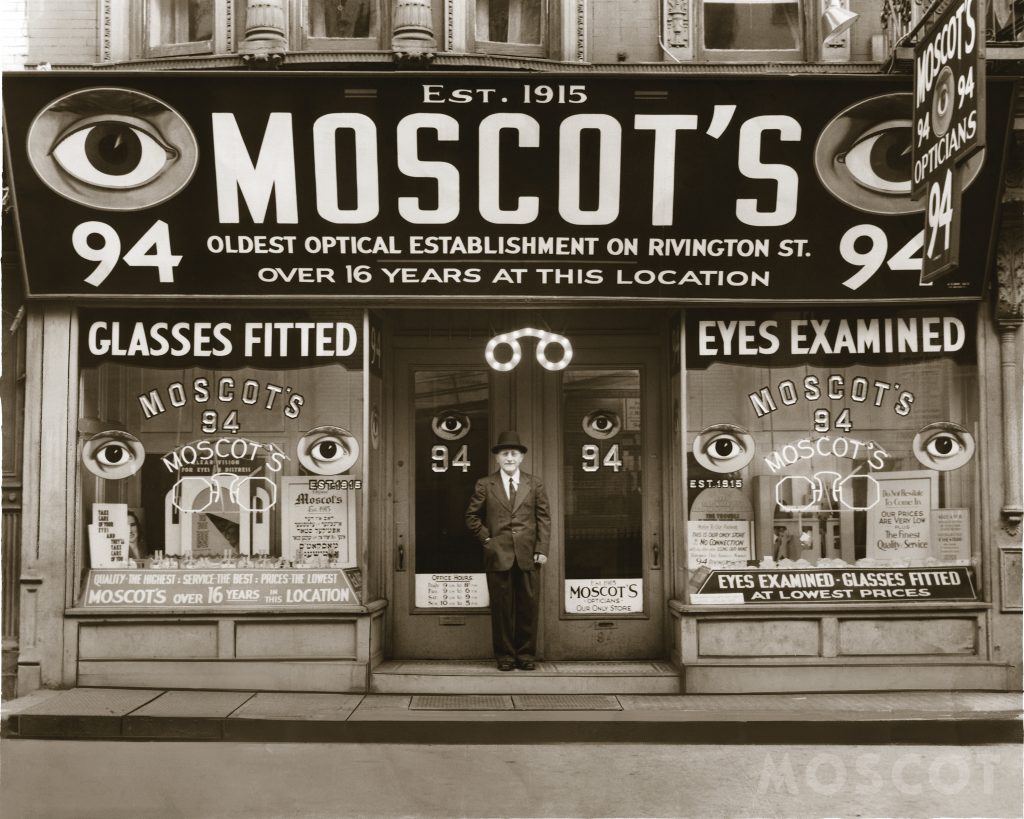 ▲ In 1915, MOSCOT founder Hyman Moscot opened the family's first optical shop at 94 Rivington Street in New York.

Could you please provide a brief summary of your background?
My father and I only know working for our family business, for better or for worse! My father, a doctor of Optometry, has over 30+ years in the optical field, both examining eyes and running the business. He is an expert in retail and understands distinctly the past, present, and future positioning of MOSCOT. I, alongside my father, support the growth and management of our heritage brand through different aspects. I am a formally trained product designer, with a unique skillset that has allowed me to further develop our frame designs and optimize our collections, brand, marketing, and creative strategies as well as the digital evolution of our 108-year-old brand. My father and I complement one another well, coming from two different generations and backgrounds with the same goal of growing and strengthening our brand.

▲ Dr. Harvey Moscot, the 4th generation (left) & Zack Moscot, the 5th generation (right)

MOSCOT has been around for over 100 years and has become a well-known and respected brand. As the 4th and 5th generation of MOSCOT, do you feel any specific pressure?
We always feel pressure to retain the authenticity and uniquity of our brand and its legacy. MOSCOT is our company, but it is also our namesake and our livelihood. It is our jewel, and we approach it every day with immense passion and care. Motivation comes naturally when you are passionate about what you do, and we are true believers that we are providing a unique product and brand experience in today's global marketplace.

How has the eyewear industry changed over the years, and how has MOSCOT adapted to these changes?
Over the years, eyewear has evolved its function from solely a medical device to now a fashion accessory as well. What we do well at MOSCOT is focus on both these key aspects equally. We try to remain true to our history, and while recognized as a global fashion brand, we remain at heart, a neighborhood optical Shop. We aim to push the brand forward as a leader in eyewear in terms of design, quality, craftsmanship and fashion while remaining focused on our customers' visual needs. We are optical experts in understanding what type of lens design is needed for one's individual lifestyle. While style and aesthetics are important, the visual needs of our customers remain paramount. Our aim when someone leaves MOSCOT with a new pair of frames is to not only look better but also to see more clearly!

MOSCOT has expanded beyond its original New York City location to open stores in other cities around the world. What challenges have you faced in expanding the brand globally, and how have you adapted to different markets and cultures?
There is no question that every culture and country have its own uniquities, however, we have found commonality in people's desire for great eyewear and eyecare with superior service and expertise. One of our goals is to maintain the authenticity and familial feeling in each Shop we open around the world. Whether there is an actual Moscot behind the counter, we want the Shop to feel warm and inviting as if there is a family member present—and there is, as we call all employees our Family Members! In addition, we aim to achieve a seamless omni-channel experience for the customer, whether shopping online or visiting a Shop in Milan, Amsterdam, or New York City, they will receive the same MOSCOT Experience!

What is your opinion about the eyewear market in the Greater China region, What opportunities or challenges do you have in this region?
Like other key cities around the world, we are grateful for our customers' understanding and appreciation of our 108-year-old family business, and that we still own and actively operate the Company with great care. Our NYC roots translate well across the globe, as well as in Asia, and particularly China. We believe our brand, product, and experience is unique and that there is great opportunity to further develop our retail experience around the world including Greater China.

Can you describe the latest collection?
The Spring 2023 collection speaks to our core: containing heritage details, iconic MOSCOT DNA, and premium construction. While introducing new colorways and details, the collection itself is quintessentially MOSCOT. Offered in a variety of sizes as well as eyeglass and sunglass, the collection is diverse and bold! Stay tuned for Fall 2023 as we hone in on our 1970's-inspired downtown roots!

Has there ever been a time when a bigger company has tried to acquire MOSCOT? If so, why did you choose not to sell the company?
We are always humbled when people reach out or inquire about our Company. We love what we do and for us this is more than just a job, but a generational legacy. We truly want to provide a special product with optical expertise, and we feel we can do it effectively with our own direct oversight. As a father now of my own, I'd love to give the 6th Generation the gift that was given to me – the opportunity to join the family business and evolve it in a new way. Very few can say they have a 5 Generation (and counting!) family business. There is great pride here at MOSCOT and we want to continue building the legacy…