Art Deco was born during the Second World War. It is a selected decorative art style that combines a variety of artistic styles and materials, such as the bold geometry of Cubism, the colorful colors of Fauvism, and the exotic atmosphere of the East. The works are often produced by rare and expensive materials, such as ivory, jade, etc., and show exquisite and elegant craftsmanship, presenting a glamorous and luxurious style. In the blooming Italian optical industry, of course, there is no shortage of brands with rich decorative styles, and the designs are really impressive.
Brand: Coco Song
East and West meet to create an innovative and rich in details collection. Colors and shapes tell stories of far and mysterious countries, and are re-proposed in frames entirely handmade with precious and exclusive materials: silks, feathers, dried flowers and semi-precious stones such as turquoise, lapis lazuli, white howlite and tiger's eye. Die cast metal inserts complete the frames, made using goldsmith techniques to create authentic jewels, which tell thousand-years old stories through symbols and good luck charms. The skilled use of geometry makes this autumn-winter collection extremely modern, characterized on opulence and clean design.
All the styles are created according to the iconic brand codes, giving life to inimitable frames which, for autumn-winter season, dare to explore completely new and extremely refined shapes.
Model Sparkling Tears show on the temples a micro-fusion metal chain, enriched by colored enamels; next to the hinge, small rhomboid semiprecious stones embellish the frame, giving it an energizing power transmitted according to ancient Oriental cultures.
Excellent Night is a model with sweet and sensual shape. Fronts and temples are embellished by silk and dried flowers inserts, showing both discreet color combination such as black, turquoise and orange and more daring red/multicolor ones. The floral pattern is shown also on the metal and enamel decoration close to the hinge, with an open-work ornament inspired to the sinuous lily shape.
More minimal and geometric, model Rising Sun has a round and slim metal front. On the top rim, gold or silver reliefs create a labyrinth pattern, on a black, blue or red enamel base. The same pattern is shown on the rhombus shaped temples, where the enamel colors are recalled by the temple tips silk and feathers.

Brand: EMOZIONE
There are jewels which are only to be admired and others which must be worn in order to best appreciate their exclusiveness. EMOZIONE has translated these words into a collection for the woman with innate elegance and who loves magnificence. The passion behind skilled hands, capable of shaping the pure metal into a work of art, where magic is created by points of light reflected by Swarovski crystals and precious stones. EMOZIONE proposes excellence in terms of design, crafting techniques and comfort, all produced in the brand's premises with care and attention by skilled personnel. Experience gained in the sector in twenty years of production has enabled designers to develop a dynamic approach to style in the choice of forms and colours.
The latest series of EMOZIONE continues to show the superb metal processing technology and the aesthetic ingenuity of the artistic crystal decoration, bringing a series of glasses to women with diverse styles. There are simple and decent styles that are easy to match with daily styles, and there are also playful and lively styles. EMOZIONE's party style eyewear never let people down. The model Maschera reflects the brand's superb metal cutting technology, and the metal is made into a three-dimensional feather-like effect. With crystal embellishment, it is very gorgeous, and wearing it to the Venice Carnival will surely catch everyone's eyeballs!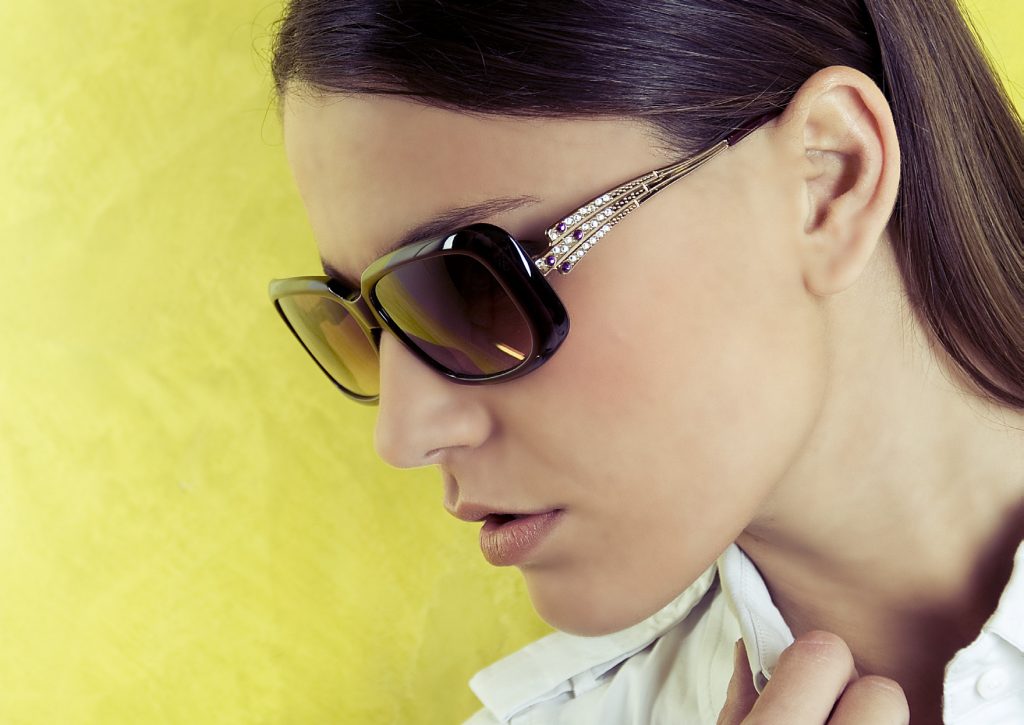 Model E1311 has a cat-eye contour to enhance the facial lines, while the amphibole on the side of the frame and temple adds vitality to the calm tone.
Maschera's metal feathers are gorgeous and eye-catching, coupled with ruby ​​red crystals, adding a wild and elegant charm.

Brand: Ultra Limited Eyewear
Unrepeatable in their uniqueness, these glasses are the product of a man's glance. A man who, after a day's work in his workshop, looks at the scrap bin of the day's produced frames, and sees a kaleidoscopic mix of colours. Just a moment is enough to unleash creativity, and just a glance to imagine something great: bringing a dream to life. Callous hands, skilled hands of that pristine craftsmanship typical of people who have been working for years with passion and devotion, starts shaping scraps with an unique result. The result is called Ultra Limited
Each pair of glasses is hand-manufactured in Italy by artisans with decades-long experience. By assembling 12 different color shades, each pair of glasses is the ultimate expression of colour, with tone-on-tone technique and the exaggeration of contrasts. Each frame is laser-printed with a progressive serial number, a guarantee of authenticity and uniqueness of the product. Cellulose acetate is the raw material used. Frames pass through the skilful hands of artisans from the Cadore mountain area, sole experts able to shape such a complicated and original product.
The upper edge of this model is painted with bright cyan, contrasting with the more calm tone of the lower layer, forming a huge contrast in color.
The square frame of marble texture is matched with yellow, green, white, purple, black, red and blue luster, which brings a different kind of elegance and playful expression.