Italy, the fashion capital of the world, has always offered to the world accessories that combine exquisite design, state-of-the-art craftsmanship and classic style. "Made in Italy" literally represents impeccable quality and credibility. When it comes to eyewear, Italy is even more a big producer with a long history of eyewear manufacturing. The country has also continuously cultivated eyewear brands that are widely welcomed by people in the world. The golden lacquered label of "Italian Eyewear" has become finely polished. In this unit of "Italian Brand Tour", we will introduce to you 20 Italian eyewear brands, so that you can know more about the ever-changing and brilliant Italian eyewear which is just like a kaleidoscope. This time we will bring to you 3 brands that represent the unique, original and innovative faction.
Brand: LARA D'
LARA D' presents a collection of over 120 artistic, original-concept designs, in 5 micro collections with a mix of materials including elegant high-quality acetate, stainless steel and beta titanium. The frames offer a range of unique qualities with artistic details, taking an experimental approach to the concept of lightness and exploring a freedom of expression in colour and shape by means of advanced applications of new and innovative production techniques. Nurtured through 10 exciting years of creativity and design, the LARA D' project has become a well-loved Italian brand with optical partners and fans around the world.
Defined by its close links with Belluno and the much-admired quality and beauty of Italian artisan eyewear, the collection continues to expand and evolve through commitment to individuality and customization, embracing along the way, the new experiences of the designer and her passion for creativity, fashion and travelling the world.
https://www.laradeyewear.com/en/

Brand:Mad in Italy
When you look at the brand name, you should know that this brand is "mad". "E" from the traditional phrase "Made in Italy" is eliminated to express the entirely Italian MAD creativity of this brand. This madness is especially manifested in the brand's bold use of colors. As the brand's motto goes "The Madness Of Being Oneself", Mad in Italy encourages people to leave behind constraints and be their crazy self.
Mad in Italy celebrate the 10 year anniversary by presenting a unique women's frame in a numbered limited edition – the MMXX edition, which is under the Mad in Italy Up line, is an impressively innovative solution: a frame obtained by combining 2 different nylon lens masks into one front. The technology behind this frame might be invisible to the naked eye: cutting the two sun masks in order to enable glue-free interlocks requires fine craftsmanship and knowledge. The new model is milled in a way to obtain an inner tricolour frame inside of an external one: the MMXX's shows an incredible ultralight double mask with metal temples! Available in 3 colour variations: mirrored blue, cherry ,and black for the external mask, shimmering from caramel to sand, from green to violet, from pink to crystal rose for the inner one.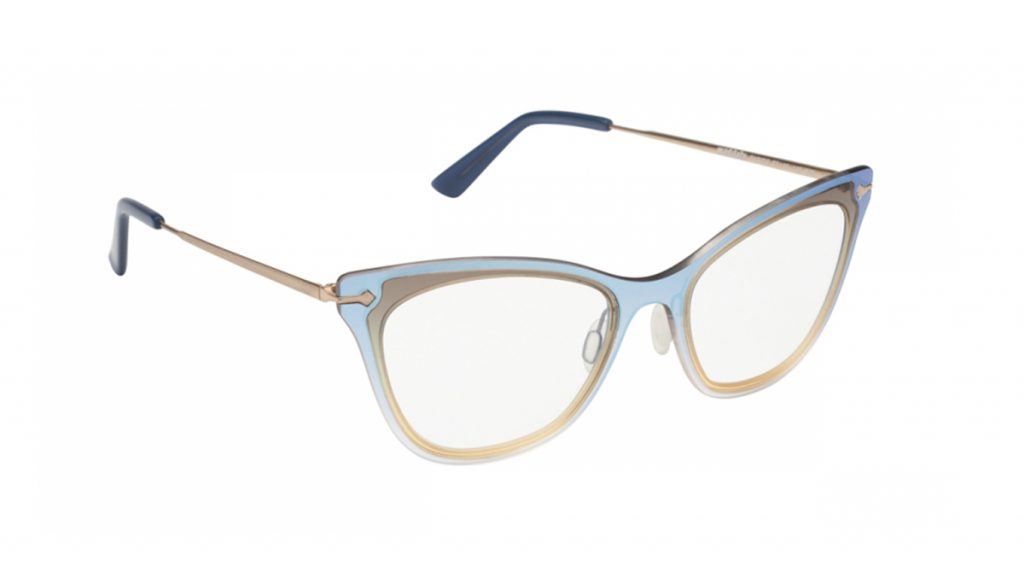 Brand:Pugnale
High technology and passion for design, fashion and uniqueness. These elements are the exclusive and distinctive combination since "Pugnale Eyewear" constitution in 2013. Innovative uses of techniques and materials are the base to create an excellence in the Made in Italy eyewear market. Industrial laminates become elegant surfaces: metal is combined with fabrics and precious materials for a contemporary and exclusive luxury.
The Lab line is the maximum and primary expression of the soul of PUGNALE thanks to the use of materials, shapes and assemblies that are always unique and innovative. All the iconographic elements of the brand are declined in a Unisex collection with distinctive, redundant and exciting features. Unusual color combinations, brushed, sponged, personalized textures, decorative inserts and materials such as harmonic metal, steel, beryllium copper and acetates, give life to non-traditional shapes, which satisfy the search for all those who want to stand out in an anti-conventional way.

https://www.pugnaleeyewear.com/